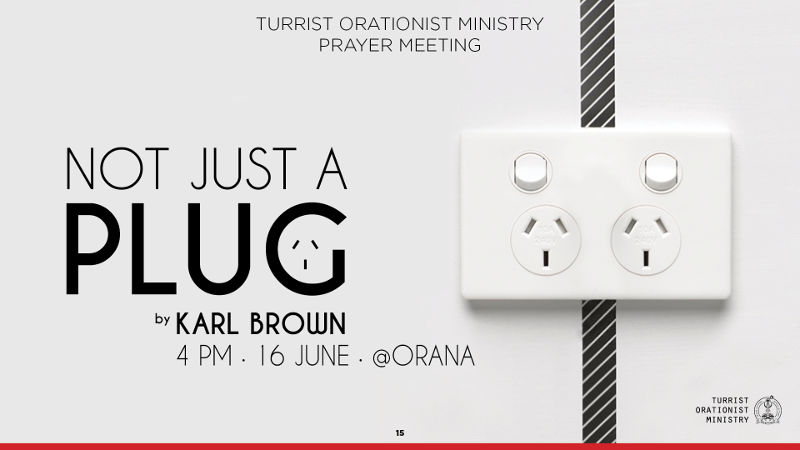 Not Just the Plug – sermon by Karl Brown (PD 16 June 2018)
Prayer should not be just a power source, like when we only come to God because we need something. We can learn about prayer from these Saints quotes:
Prayer is a matter of your heart.


"For me, prayer is a surge of the heart; it is a simple look turned toward heaven, it is a cry of recognition and of love, embracing both trial and joy." ― St Thérèse of Lisieux.


All religious things don't make us holy. They are nothing if our heart is not in there.
Prayer requires humility.


"Prayer is putting oneself in the hands of God, at His disposition, and listening to His voice in the depth of our hearts." ― St Teresa of Calcutta.


We need to humble ourselves in front of God, let Him take control in our life, and submit to His will. We say to God, do whatever that You want to do. This is also reflected from The Lord's Prayer, especially the part of 'Thy Kingdom come, Thy will be done on earth as it is in heaven'. The Kingdom of Heaven is the range of God's effective will. That's why we pray for this in our daily life. Also, 'Give us this day our daily bread' implies how much we would depend on God's providence and willingness to seek Him daily.
Prayer requires honesty.


"Prayer in the sense of petition, asking for things, is a small part of it; confession and penitence are its threshold, adoration its sanctuary, the presence and vision and enjoyment of God its bread and wine." – C. S. Lewis.


In prayer we need to be honest, to be real and true in front of God. We come to God without excuses or pretences.
Prayer is the antidote of many problems in the world and in ourselves.


"Prayer is the place of refuge for every worry, a foundation for cheerfulness, a source of constant happiness, a protection against sadness." – St John Chrysostom.


Prayer brings us hope amidst all of stresses, commitments, concerns, disappointments, and challenges.
Why a life of prayer can be a real struggle?
The battle of prayer is inseparable from progress in the spiritual life -(Compendium of CCC 572).
Battle against OURSELVES
Pleasure and our own desire and fulfillment gets in the way. It is often the most common excuses for not praying. It can also be a battle from distraction. When our mind occupied with things that worry us, rather than dismissing or battling with the thoughts, it would be better to bring them to prayer instead.
2. Battle against OUR SURROUNDING
The world doesn't favour us to have a deep relationship with God. It becomes a great reminder for us that we are always swimming upstream against the flow of the world. If we just sit still, and don't do the spiritual life stuff that we need to, the river that we're in is moving us to the other direction, towards the world.
3. Battle against the TEMPTER (the Devil)
Prayer becomes a struggle the most when we are not in the state of grace. When we sin (have done something, said something, making bad/unholy decision, not respecting yourself and/or other), these are the hardest times to go to prayer, but it is the time when you should absolutely run towards prayer. If you can't pray dirty, then you can't pray. Those of us who want to live a life of prayer need to get used to praying dirty, praying even when you are in sin, because nothing should ever get in the way of prayer.
PERSONAL REFLECTIONS
God was speaking directly to me through Karl, particularly when he challenged all of us at the end of the sermon of being truthful and honest and seeing where my heart is at with God. It is asking to myself, "Am I in love with Jesus?". For me, this is a wakeup call of how I have been treating prayer in my life lately, whether it is still the most important thing in my life or not. It is a great encouragement of keep doing what I profess I do and living it in my heart and in my private life, no matter how much of the struggles I experience. I am called to be a person of prayer, even when I still make the same excuses again and again, whether I am busy, distracted, or being lazy. God knows and sees my heart and it is my decision of coming back to God that matters to Him. I stand corrected by Him and I pray that I am ready to face the truth in front of my Creator and will allow Him to reign in my heart and make me fall in love again with Jesus.
By Nova